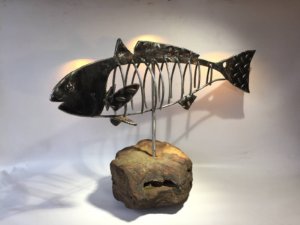 Medical City Lewisville Grand Theater will present sculptures and creations from local artist Daren Fagan as its main art exhibit during the Western Days festival in historic Old Town Lewisville.
The exhibit runs Sept. 16 through Oct. 14 at MCL Grand, 100 N. Charles Street, and will be featured in the main art gallery. Gallery hours are Tuesday through Saturday, 10 a.m. to 5 p.m., and will be extended during Western Days, Sept. 29 and 30.
Fagan is a local artist who focuses on recycled/upcycled, fixed and kinetic steel sculptures. Car and motorcycle parts, wire, bamboo, and crepe myrtle branches are commonly used in his works. Fagan is the artist creating "Earth and Beyond," the first piece of public art for the City of Lewisville, being donated through the Greater Lewisville Arts Alliance. It's expected to be finished, and installed outside the MCL Grand, later this year. A large-format sculpture in this show will be auctioned off to help pay for "Earth and Beyond."
Fagan is involved in a program called "Fine Art Foster Homes." This program allows community leaders to pick out sculptures or art from the Visual Art League of Lewisville and the Cross Timbers Artists Guild, and put them on display at their homes. The pieces of art will remain at that location until that community leader can sell it. Those leaders essentially find forever homes for the works by sharing them with friends, family, and business associates. When the art is purchased, 30 percent of the payment goes the community leader's charity of choice, and 70 percent goes to the artist.
To learn more about Daren Fagan, and to see some of his original sculptures, please visit his website at DFaganSculptures.com, or his Facebook page at Facebook.com/DFaganSculptures.
This year's Western Days event will feature Turnpike Troubadours and Randy Rogers Band as headlining musical acts, an expanded Western Village featuring the Tribal Traditions Dance Troupe, the Kid Kountry Playground presented by Castle Hills, a mechanical bull, a working blacksmith, Huffines Auto Dealerships Lewisville Cattle Drive Parade, Castle Hills Culinary Corner, an art gallery exhibit at Medical City Lewisville Grand Theater, and many more exciting, family-friendly activities.
Gates will open at 5 p.m. Friday and 10 a.m. on Saturday. Free tickets will be available for pick-up or download (LewisvilleWesternDays.com) on Monday, Aug. 28. Download or print as many as needed and present them at the gate for free admission between the hours of 5-7 p.m. on Friday and 10 a.m. to 7 p.m. on Saturday. However, beginning at 7 p.m. both nights, free tickets will no longer be redeemable, and a $10 charge will be assessed for admission for everyone except children under 10.
Festival-goers are encouraged to use the free shuttle service to access the festival grounds. Shuttle hubs will be set up at DCTA Old Town Station, 617 E. Main Street; DCTA Hebron Station, 952 Lakeside Circle; and the parking lot at the Lowe's/Kohl's/Staples shopping center at 1001 Valley Ridge Boulevard. Shuttle times are 4 p.m.-12:30 a.m. on Friday, and 9 a.m.-12:30 a.m. Saturday. Shuttles will run every 10-15 minutes. While this is a pet-friendly event, pets and weapons will not be allowed on shuttle buses per bus company policy. Limited public parking will be available in various lots around Old Town.
Sponsors for Western Days 2017 include City of Lewisville, Lewisville Convention and Visitors Bureau, Waste Management, Republic Services, 99.5 The Wolf, Bud Light, Coca-Cola, Orthofix, Huffines Auto Dealerships Lewisville, Market Street, Prime Controls, Southern Comfort Mechanical A/C and Heating, The Apparel Group, Castle Hills, Frost Bank, Witherspoon Distillery, Mellow Mushroom, Hampton Inn and Suites Lewisville, CoServ, Johnson Feed Company, Denton County Transportation Authority, Texas New Mexico Power, Gilley's, Blackall Photography, Kris T's tees, Cavalli Pizza, and Prohibition Chicken.
For the latest information on Western Days 2017, please visit LewisvilleWesternDays.com.