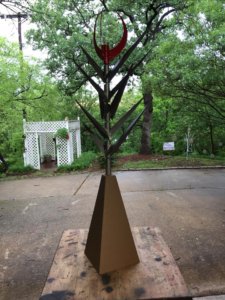 Lewisville City Council on Monday unanimously approved creation of the city's first piece of permanent public art, and approved its installation in historic Old Town Lewisville.
The sculpture is called "Earth and Beyond." Greater Lewisville Arts Alliance (GLAA) commissioned local artist Daren Fagan to create the contemporary piece to honor former Arts Center Manager Jim Wear. Wear retired in 2016 after spending seven years with the City of Lewisville. During his time at the MCL Grand, Wear helped raise the profile of the award-winning facility, turning it into the premier public arts center in Southern Denton County.
"Earth and Beyond is an appropriate choice to initiate what I hope will be a growing trend in the city," Wear said. "The choice pleases me because it was initiated by a group of community members, it is being created by a local artist, and the piece itself should have qualities that will please a large segment of the community."
Daren Fagan is a well-known sculptor in the North Texas area who uses new and reclaimed metal in his creations. He said "Earth and Beyond" represents the agricultural history, natural beauty, and future innovation of the City of Lewisville. The 19-foot-tall, 10-foot-wide, 900-pound, kinetic-energy sculpture takes on an organic form with multiple brushed stainless steel "leaves" that move independently of each other. It will be anchored to the ground by an eight-foot-tall Corten base that will weather naturally over time, and be topped by a five-foot-tall, brightly colored purple bud that resembles a closed flower. Fagan says his inspiration for this sculpture came from the colors and surroundings at Wayne Ferguson Plaza.
Fagan said he is grateful to have been asked to create a sculpture in honor of Wear. "I am a huge Jim fan and he has given me a lot of encouragement over the years as my creations have developed," Fagan said. "It is truly an honor to do something really special for Jim and the City of Lewisville."
"Earth and Beyond" will be installed near the southeast corner of the MCL Grand, close to the intersection of Main Street and Charles Street. Much of the metal fabrication will be done by Bulloch Fabrication in Old Town Lewisville. Fagan plans to work with Halff Associates, a Fort Worth engineering and architecture firm, to ensure the sculpture is structurally sound, and able to withstand all environmental elements. Fagan also will work with the Visual Art League to create a tile mosaic that will be attached to the base.
"I'm extremely pleased the first permanent piece of public art will be located at the MCL Grand," Wear said. "This is a highly visible location, and will help people recognize the arts center."
The Arts Advisory Board unanimously approved this sculpture back in February. The estimated value of the sculpture after installation is around $40,000. With City Council's approval, the goal is to have the sculpture built and installed later this summer. Fagan says he'll be interested to see people's reaction to his work of art.
"My hope is that this sculpture inspires more people to create," said Fagan.
A desire for public art was expressed by residents during development of the Lewisville 2025 vision plan. Creation, installation, and presentation of this sculpture addresses action steps in the "Old Town" Big Move as well as the "Marketing and Communications" Big Move.
Public art is art that is visually or physically accessible to the public and that is acquired by or donated to the City of Lewisville. It can take forms such as sculpture, integrated design in functional pieces and facilities, murals, and temporary or permanent exhibitions. It enhances design and creates connections expressing shared values and ideas about Lewisville and its unique qualities as a community.
In 2012, Lewisville City Council assigned the Arts Advisory Board a role in recommending public art acquisition and placement. In 2015, Council allocated approximately $600,000 from Hotel Fund Reserves to create a Public Art account. The Fiscal Year 2016-17 budget includes $65,000 in the Hotel Fund for an outside consultant to develop a public art master plan for Lewisville.
Public art components are included in four infrastructure projects approved by Lewisville voters in the November 2015 bond election. This is the first time public art has been included in the initial planning for a Lewisville capital project. Those public art components include permanent public art integrated into the new Multigenerational Recreation Center; permanent public art integrated into hike and bike trail additions; and permanent public art integrated into two major street construction projects.